Holiday Clubs in Oxford
Published:
A kids camp is the perfect problem-solver for an energetic child with plate-spinning parents! Here's a selection of holiday clubs in Oxford, which feature a range of activities!
Holiday Clubs in Oxford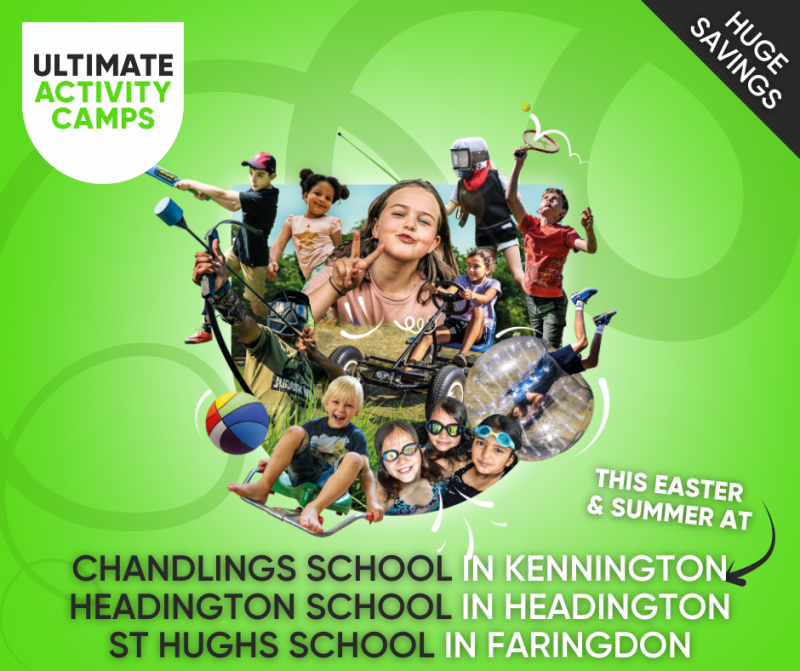 Ultimate Activity Camps
Get set for fresh air, fun and friends! Ultimate Activity Camps provide outstanding Ofsted-registered (& Covid-Safe!) activity day camps for children aged 4-14 during the school holidays, where the children's welfare and fun are at the heart of all they do! Children will enjoy a fantastic range of over 40 sports, games and art activities every week, led by engaging staff at amazing locations. Visit their website for dates, prices and activities!
Dates: Easter and Summer
Times: from 8:30am – 5:15pm, Extended Days 8:00am – 6pm
Age range: 4-14 years
Location: Various
Check availability and book here.
Check out a Video of the camp here
Email: help@ultimateactivity.co.uk
Tel: 0330 111 7077
---
WR Sports
They host an array of exciting, action-packed activities at their football and active camps - presenting the perfect opportunity for your kids to get active, improve their skills, make friends and have a fantastic time making new friends and learning new skills! All taking place from our awesome sites in Oxford and Abingdon!
They offer an amazing, modern coaching style that gives children the best opportunity to develop their skills in a positive and safe learning environment.
They aim to provide a fun and safe environment where children will grow a passion for sports - so that they can facilitate their kick-start to a healthy and active lifestyle.
---
KIDACTIVE
KIDACTIVE Holiday Club is a well established (now in their 15th year) children's holiday club provider in Headington Oxford. They operate all school holidays delivering wrap around care for primary school children. They pride themselves on being homely and delivering a multi-activity experience. They believe they've got the best ingredients offering a mix of arts and crafts, toys, board games, music and dance and all the sports to keep children engaged throughout the day. Their staff are experienced, qualified and long serving. Their facilities at St Andrews Primary offer a spacious secure environment.
Their holiday club offers child independence whilst ensuring days are full of active play. They operate a daily routine where children move around the club in their age appropriate groups (with their adult) hourly enjoying the wide range of activities on offer. The pace of the day is well balanced.
Activities are delivered over multiple areas offering arts and crafts, toys and board games and sports/active play. Children visit all areas with breaks in between. Additional to indoor areas they have wonderful outdoor space for children to engage in free play and sports.
---
Oxford Active
Their Active Camps are ideal for children between 3-14 who enjoy lots of variety. No two days are the same! The activities are tailored to the children on-site by their brilliant activity leaders with engagement and enjoyment being at the forefront of everything they do. Each day will feature a range of sports, arts and crafts, team challenges, and wide span games such as capture the flag, obstacle courses, group collages and much more!
Due to limited pool timings, they are unable to guarantee that every child will swim every day. If your child would like to take part in swimming when it is available, please make sure they bring their swim kit each day. Access to the pool is not guaranteed during every holiday, due to the unpredictable nature of pool maintenance.
---
That's all folks! If you know a great Holiday Club in Oxford that we've not featured - please let us know and we'll add it here.
And don't forget, if you're looking for things to do in Oxford, there are lots of things to do on our home page.